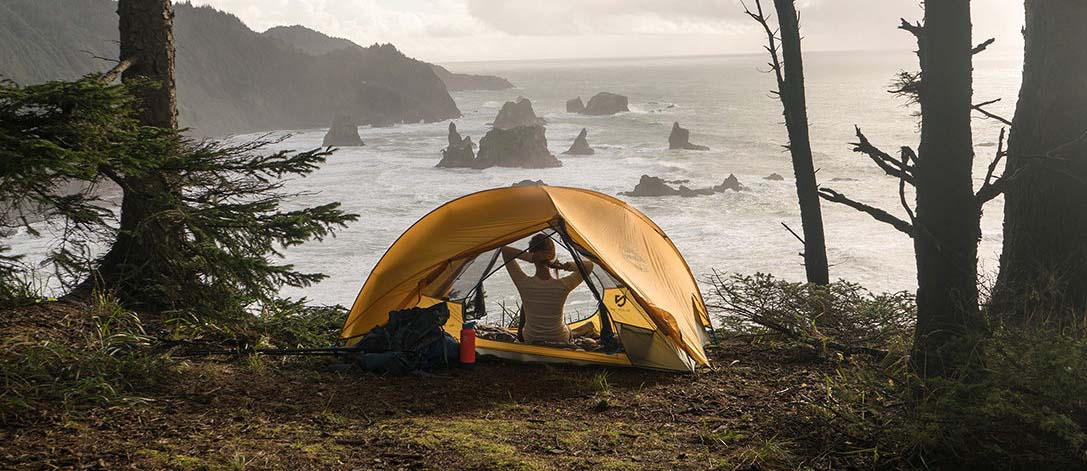 Best hiking tents are for those who want to spend quality time with no surprises when camping.
Are you planning to go camping during the next vacation? If yes, then you can consider buying a high-quality backpacking tent. In this article, we will discuss different factors that you must consider when buying this type of tent.
Ideally, the product you pick should be compact and fit perfectly in a tiny stuff sack. In addition, it should be light in weight too. The ideal weight of a two-person backpacking tent should be six pounds or even less than that.
Now you have the chance to choose the best hiking tents on the market.
Best Backpacking Tents in 2020
These units generally come equipped with a vestibule, which is basically an enclosed overhang that allows users to store camper's belongings outside the tent. This way they won't worry about the possibilities of exposing them to rainwater and dirt.
Another major advantage of buying a tent boasting a vestibule is that the vestibule can even be used for cooking when it's raining.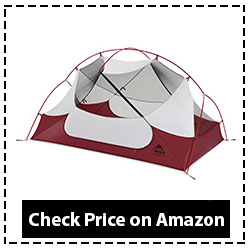 The first one on our list is one of the most adaptable tents you can find in the market today – Hubba Hubba NX.
Setting up is so simple that it can be done by a single person. The different pitching methods and the two quick pitching modes offer many options for how much you would like to carry on your hiking trip.
The lightweight materials used in creating this tent are the reason one is one of the Best Hiking Tent models you will bind. Hubba Hubba NX is designed to make extremely useful vestibules on each side that together will provide you with 17.5 square feet of extra space for storing your gears.
This tent has a color-coded hub as well as a pole system which makes setting it up easier. Providing you with 29 square feet of total space, expect to carry a minimum trail weight of 3 lbs. 7 oz. The top weight contributing factor here is the extra weight due to the floor that is made of 30D ripstop nylon.
Pros
Good ventilation.
Two vestibules.
Large space for gears.
Easy to set up.
Extremely lightweight.
Cons
Doesn't have a footprint.
It could include more internal storage pockets.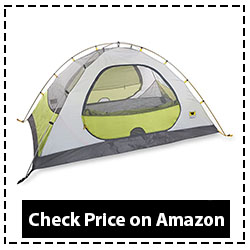 The next one is The Mountainsmith Morrison 2 Person Tent. This tent offers a comfortable sleeping sanctuary for both short and long camping trips. It has breathable PU-coated polyester fly material that offers trustworthy 3-season weather protection.
It has an aluminum V-stakes that easily pierce in properly to the ground and well stitched taped seams that help the tent to stand well no matter how harsh the weather is.
You will surely like the reflective guy lines that have tension lock cord adjustment that improves performance and durability during bad weather.
This tent has color-coded footprints, poles, stake loops, as well as fly clips that make setting it up easier. It also has a highly durable 35 square feet of interior space that can accommodate two persons with enough space for their gears.
The instinctual set-up, dual vestibules, as well as dual doors let you access the tent without having to shake the whole tent. The mesh storage pockets and ceiling loft pocket make sure that your gears remain to be organized and easily accessible. Another good thing about this is that the tent could easily be separated into two parts for privacy.
Pros
Nice, modern design.
Freestanding.
Easy to set up.
Extremely spacious.
Cons
Not the lightest tent you can find.
No footprint.
Only have two guy lines.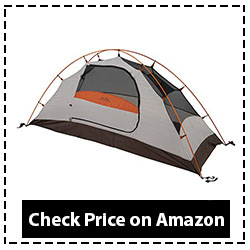 Another reliable hiking tent is Alps Mountaineering Lynx 1 tent. This freestanding 2-pole design offers a lot of space for solo hikers. The tent's upper body is made of a mesh while the lower part and the bottom are made of water-resistant fabric with taped up seams. The D-shaped side door is mesh, big enough, and rolls out and can be clipped if you want to keep it open.
The tent is large enough to put your gear inside. This tent even has an additional 10 square feet of covered space below the side vestibule. The vestibule has a storm flap and a zipper comes with Velcro tabs.
What we like about this tent the most is that the walls are mostly made of mesh that helps improve ventilation. In order to make sure that no corners are cut, ALPS comes with the factory seal the floor and fly seams and cover the floor with 2000mm that will keep you when the weather gets messed up.
Pros
Easy to set up.
Packing is a breeze.
Extremely lightweight.
Cons
A little narrow.
Not ideal for people with bigger physic.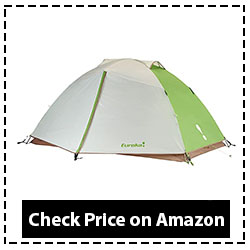 If what you're looking for is a tent is a little bit more spacious than the one we previously featured, then Eureka! Apex 2XT Two-Person tent could be the better choice!
This tent offers enough space for 2 to 3 persons with a large space to store your gears. It also provides you with good ventilation and at the same time balance the utmost thermal effectiveness.
If you love stargazing, then you will love the setup of this tent. This tent also has waterproofed walls but also has a mesh that will keep you comfortable during warmer temperatures. Aside from the walls that make you comfortable, it also has a factory-seamed, bathtub floor.
This tent comes with a clothesline loop, two doors, a flashlight loop, two windows, pole, stake bags, and twin-track zippers, as well as two mesh gear pockets that are perfect for storing your belongings.
Pros
Very spacious and large enough for tall people.
Easy to setup.
Perfect for most weather conditions.
Highly durable and made of high-quality materials.
Lightweight.
Cons
Probably not be the best tent during heavy rainstorms.
Additional floor space may be better.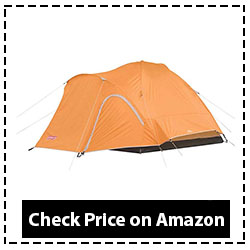 Another spacious tent that is best for hiking is this Hooligan Tent by Coleman. This tent features a fully coated polyester fly that incases the tent in a sheath of protection from any weather condition.
No matter how tall you are, you will surely fit in this tent comfortably along with your hiking gears. Not only it has a spacious interior but the overall look is also a great addition.
The rain fly is not the easiest to set up and assemble but, taking the time to put it up is definitely worth it. It has a little front vestibule that offers great storage space for your additional gear and the entire mesh body is good for ventilation and watching the stars at night.
All in all, this is a straightforward tent that has a lot of storage features and living space. The tent folds up easily and compacts well, which makes it even more ideal for hiking.
Pros
Very spacious.
Easy to setup.
Good ventilation.
Smart storage system.
Cons
On the heavier side.
The vestibule door is small.
Fiberglass Poles.
Zippers could be better.
---
Best Backpacking Tent Buying Guide
Having Vestibules in Hiking Tents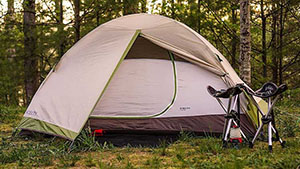 Are you wondering how important it is to buy a backpacking tent that comes equipped with a vestibule? The factor that should decide whether you should opt for a tent boasting a vestibule is the location you have picked for backpacking.
For instance, if you have plans of backpacking in a place known for its wet climate, make sure you pick a tent carrying a large vestibule. On the other hand, individuals camping in a dry climate can afford to use a tent that doesn't carry a vestibule. If you consider going to the mountains then look at these expedition tents that should protect you from the harsh weather.
If the camping site has a dry climate, the only advantage of having a vestibule attached is that it would assist in keeping the morning dew off your belongings. And if you have decided to buy a backpack carrying a vestibule, make sure the unit is big enough. A big vestibule will allow you to use the tent in different climatic conditions.
Best Hiking Tents – Check the Tent Poles
Ideally, the backpacking tent you pick should carry aluminum poles. It's true that there are many units that come equipped with fiberglass poles; we would suggest you to avoid buying those.
We are suggesting so because the aluminum poles are much lighter and stronger compared to the fiberglass poles.
In addition, unlike the fiberglass units, which tend to bend over time, the aluminum structures are sturdy enough to last for years.
In addition, packing tents with aluminum poles is significantly easier than packing units boasting fiberglass poles. But what to do if the pole breaks on your vacation? You should have a repair sleeve that will save you from going home.
Why I Highly Recommend It?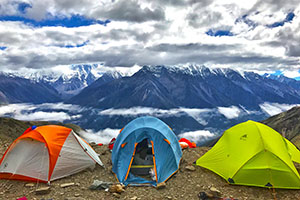 There's another strong reason behind recommending backpacking tents carrying aluminum poles. The fiberglass structures are usually extremely weak and can crack easily if they are subjected to excessive pressure.
Aluminum poles, on the other hand, don't break even when extreme pressure is applied. You'll actually need to put in serious effort for breaking these aluminum poles.
A backpacking tent mostly comes equipped with one to three poles. As we have already mentioned that a perfect hiking tent is always light in weight, it is obvious that the fewer the number of poles, the better.
Considering the number of poles is even more important when purchasing this tent because the poles are usually the bulkiest part of a tent. However, you must keep in mind that the length of the poles also matters. For instance, three small tent poles might be as heavy as a couple of long poles.
Last, but definitely not least, always purchase freestanding backpacking tents when preparing for camping. This is important because the freestanding units offer much more flexibility compared to the non-freestanding ones irrespective of the place you are setting them up.
It has also been found that setting up the freestanding tents is significantly easier. Every tent that comes equipped with three poles is virtually freestanding. There are also units that have just a couple of poles but are freestanding.
However, the market is filled with several non-freestanding backpacking tents. So, you must be extremely careful when choosing.
What do You Want – Breeze or Warmth?
For answering this question above, you will first need to know what kind of camping you are planning to do. Like all other tent types, hiking tents also have walls.
The walls might be solid or can be constructed using mesh. If you are going to a place known for its warm, temperate climate, you should opt for a tent with walls made of mesh. This will allow the breeze to pass through your tent making its interior cooler. Your mesh can tear apart on the vacation. What should you do to prevent mosquitoes from reaching you? Repair your tent mesh and enjoy the vacation further on.
On the contrary, if you are going to a place known for its low temperature, buy a tent with solid walls. They will be tents devoid of any window, which would prevent the cold wind from entering the tent and keep the interior warm and cozy.
Another thing you must keep in mind when buying a tent for warm weather camping is making sure that the unit carries plenty of mesh. The more mesh you have, the greater would be the comfort. Additional meshes would make the tent cooler.
Individuals, who are fond of high-altitude camping, however, should always opt for the solid-walled backpacking tents. These tents remain warmer at night. As a result of having solid walls, these tents don't allow mountain breezes to reach their interiors during the night.
Never Fail to Assess the Quality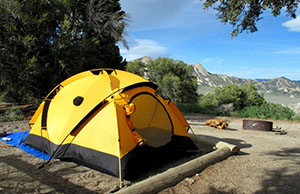 There's actually no use of buying a backpacking camping tent if it's not of high quality. You should consider buying one of the best hiking tents from our table above. Most of us prefer camping in remote areas and the tent we use is one of the most significant equipment we carry with us.
As a result, a failure of picking a good backpacking tent often means a failure of the entire camping plan. Things tend to become even worse if the weather conditions worsen.
If you have the best hiking tent, it would surely be able to withstand extreme weather conditions. Such a unit will never fail to protect you from adverse situations.
It would not leak after heavy rainstorms. You'll not see it fall down or break due to high winds. It would even be able to withstand light to moderate snowfall without much fuss.
Ideally, you shouldn't look to buy a cheap one. It's impossible for a tent to be of high quality if it's excessively cheap. Choose a good one that will fit your budget.
Conclusion
Are you going to camp at the weekend? If you said yes and you don't have a tent yet, consider getting one of the best hiking tents that we offered you as an option. These tents are known for their good quality and tent features.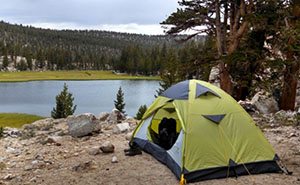 If you are going to a camp where it rains a lot or going to camp in a rainy season, you should consider getting a hiking tent with a vestibule. A vestibule will secure your belongings and protect you from the rain. It will also protect your belongings from morning dew.
Your hiking tent will be equipped with aluminum or fiberglass poles. I suggest you choose aluminum poles as they are much lighter and stronger compared to the fiberglass poles. Aluminum poles should also last longer. Are you not sure which to choose? Well, maybe you want to choose aluminum poles as they don't break as easily as fiberglass poles. I also mentioned the number of poles. Consider that more poles mean more weight on your back.
Things To Consider When Buying A Tent
Why choose freestanding backpacking tents over non-freestanding ones? First offer more flexibility and are easier to set up.
Another thing to consider is buying a tent with mesh walls or solid walls. If you will camp in a hot climate then it is better to use a tent with mesh walls, so it will provide the fresh air entering the tent. Otherwise, it is best to use a tent with solid walls if you will camp in a more wet and cold climate.
On the other hand, solid walls will make your nights warmer than walls from mesh, so it is your decision which tent walls you will have.
Quality shouldn't be a question for you if you want to enjoy a camping trip. When choosing a hiking tent, ask yourself where will you be camping and which tent can satisfy your camping needs. Never choose a cheap tent no matter how good it looks because you will regret it. Look at our table above and choose the best hiking tent that you see as worth buying.